Ed Leyro, your second-favorite Studious Metsimus blogger (after Joey Beartran, of course) has entered a contest. And believe it or not,
he's a finalist in said contest.
The contest, in which entrants show their appreciation of R.A. Dickey through various creative means, is being sponsored by the good folks at
The Apple.
Ed entered his piece, a song parody of "All-Star" by Smash Mouth, not expecting anyone to notice. Well, people have noticed and have voted by the dozens. But Ed still needs your help.
With your help, Ed can win the
New York Mets 50th Anniversary Collector's Edition DVD set,
which he will be more than happy to let you watch with him. (With a psychiatrist's help, Ed can also figure out why he's been referring to himself in the third person in this post.)
Please click
here
and cast your vote for "All-Star" by Ed Leyro. Ed's song parody is the first one listed, but as of this writing is currently in 3rd place among the seven finalists. The contest ends on Wednesday, October 10, so you don't have much to push Ed over the top.
Remember, a vote for Leyro is a vote for Ed (as R.A. Dickey himself is gladly endorsing on his T-shirt below). Do the right thing. For America. For Ed.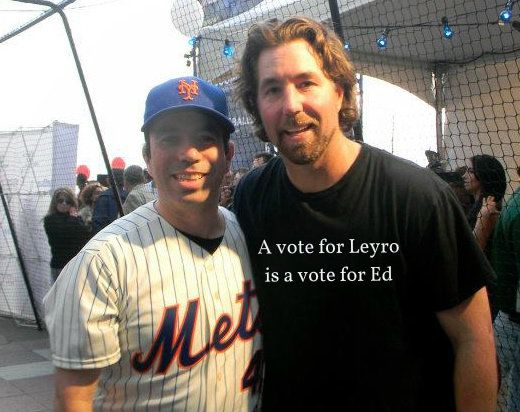 I'm Ed Leyro and I approve this message.